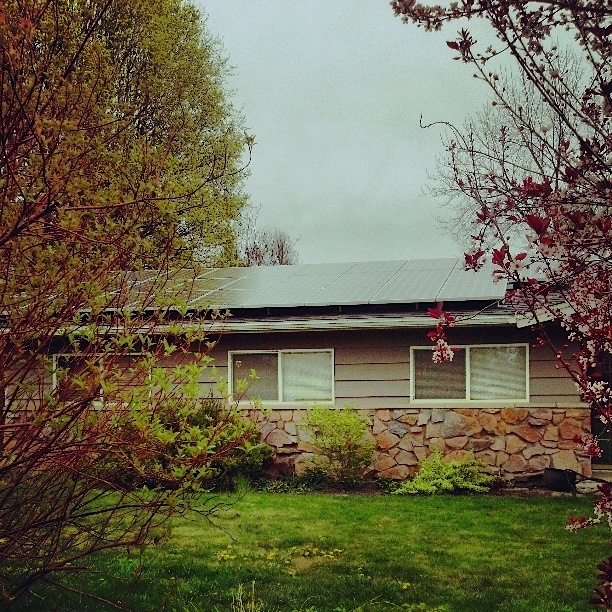 Solar Spring 2013. A well sighted solar array in eastern Washington of about 7.2kW will generate aproximately 9,720kWh per year. A Washington manufactured system entitles the owner to a $.54/kwh annual incentive payment with a $5,000 per year cap until 2020. That's 7 years x $5,000 = $35,000. Not bad.
So what does Hire Electric charge for installing a fully Washington made, 7.2kW solar array using iTek solar modules, Blue Frog micro inverters and a top of the line racking system? About $42,500.
In year one of your investment you get a 30% federal tax CREDIT of $12,750. If you live in Walla Walla, Columbia or Franklin Counties you can also get a 20% cash incentive of $8,500. You're also offsetting $970 of your electric bill (money you don't have to pay to the power company). As you can see from doing a little quick math – this is a no-brainer. Total payback is 3 to 5 years depending on the sighting of the array, and close to a 10% modified internal rate of return. There's also a 100% sales tax exemption that runs through June 2013. Yes, we are VERY busy.
The home in this photo has a westerly orientation and many beautiful trees in the yard and neighbor's property. The actual production from this site is calculated at closer to 7,400kWh. Hire Electric does a detailed site analysis so that our production numbers are not guesses based on average system size but accurate, scientifically founded, monthly production projections using local weather and irradiance data; roof angle and orientation; and a shade report. This sets realistic expectations for our prospective customers and ensures a quality project from start to finish. If your solar installer is not providing a shade and site analysis as the basis of their design then you need to start questioning their design from start to finish. A well designed system is meant to be there making power for you for 25 years. Make sure it starts off on the right foot.