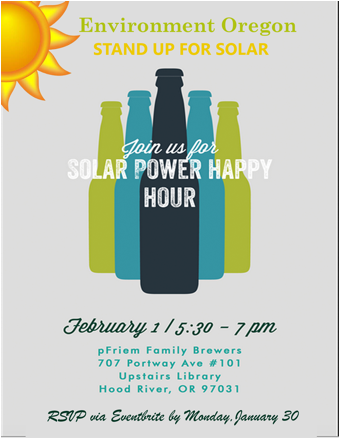 Environment Oregon Happy Hour Invite:
Join fellow community members, Environment Oregon staff and local officials on Wednesday, February 1st from 5:30-7pm at pFriem Family Brewers to learn about Environment Oregon's spring campaign, Stand up for Solar.
Hood River and the Columbia Gorge region have the potential to be solar energy leaders in Oregon. That's why we're launching our solar campaign in this community! We will also discuss how our campaign connects to other current Hood River and Columbia Gorge renewable energy efforts. As a Hood River community member, you have an important voice in the strides Columbia Gorge makes towards solar energy. This event is meant to hear your thoughts and any feedback.
The event information is below. Please let me know by Monday, January 30th if you'll be able to join us (EventBrite link below). If you have any questions, please feel free to email me at carango@environmentoregon.org.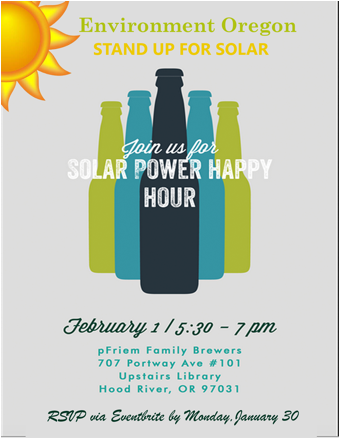 Invite your Hood River friends and family, and make sure to RSVP!