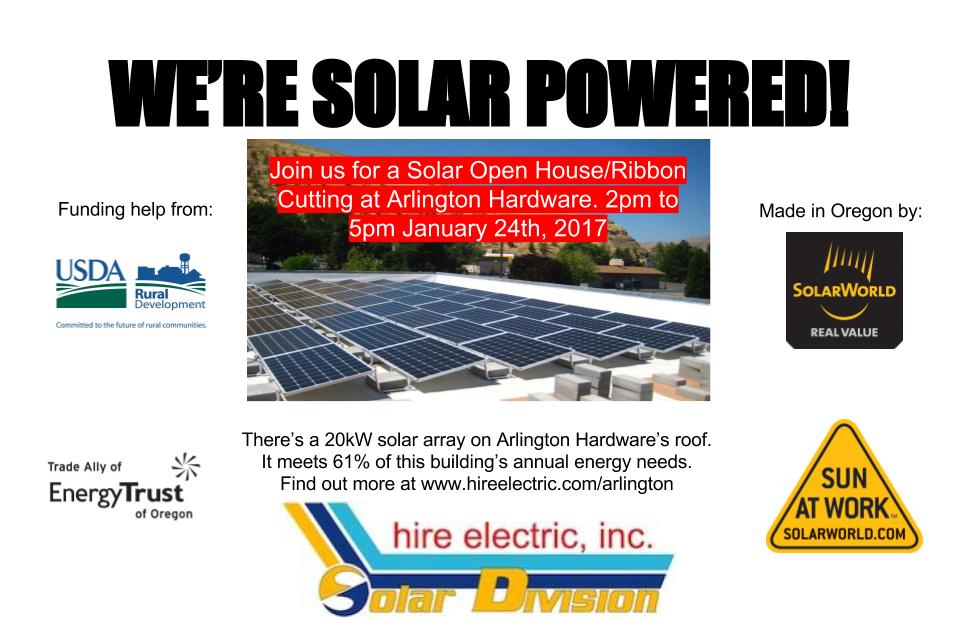 We recently installed a 20kW solar array in Arlington, Oregon on the roof of Arlington Hardware (and Liquor Store!). They will be having a ribbon cutting and open house on January 24th, 2017. The Ribbon cutting will be shortly after 2pm. Representatives from Hire Electric will be on site until at least 5pm to answer your questions. People from Energy Trust  of Oregon and the USDA will also be on hand to answer questions about available incentives. Give us a call if you have any questions 541-296-5574.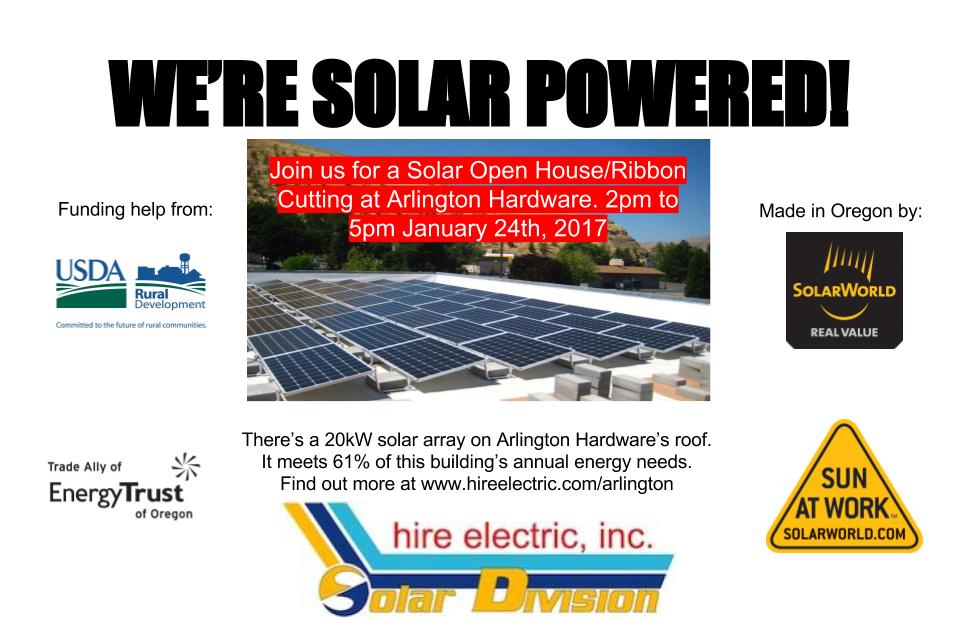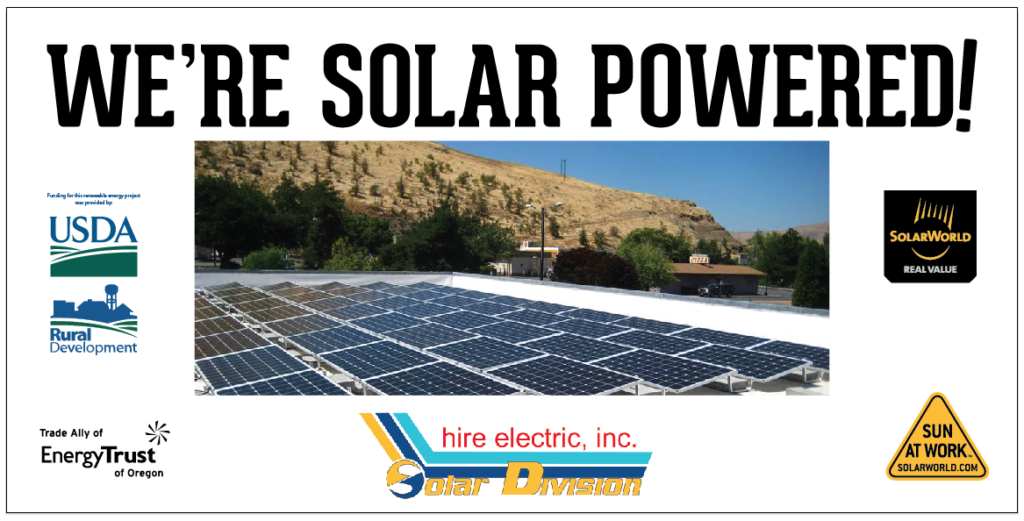 Hire Electric recently completed a 20kW solar array on the roof of the hardware and liquor store in Arlington, Oregon.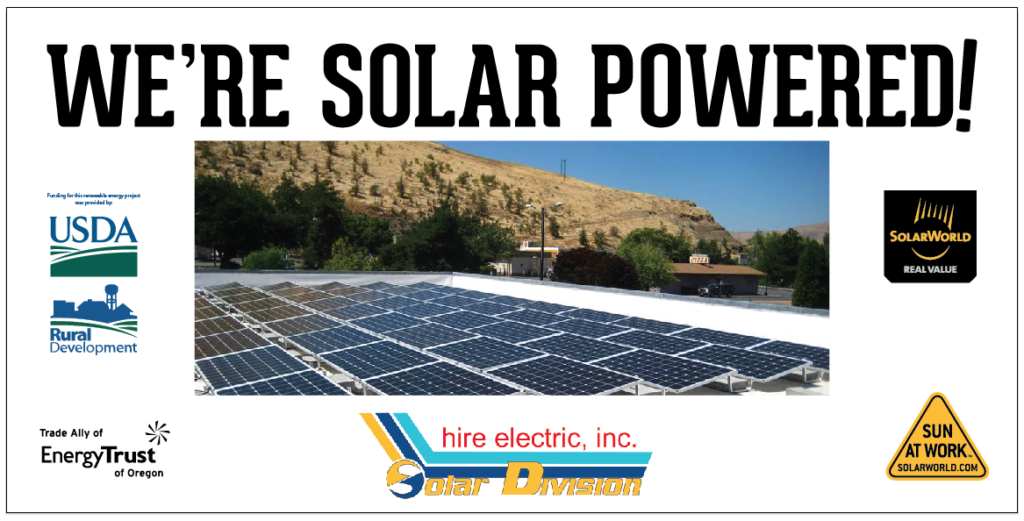 The project uses 72 – SolarWorld 285 watt solar panels that are manufactured in Hillsboro, Oregon. These panels are mounted to the flat roof using a Unirac RM, ballasted mounting system. The solar energy is converted to grid synchronous AC by 72 – Enphase Micro Inverters. These inverters allow the energy to be utilized in the building or by the local utility (after running the meter backwards and gaining a credit). Enphase also has a monitoring system that shows solar production online – here. The 20kW solar array is designed to offset 61% of the building's annual electricity needs. Arlington Hardware is both heated and cooled with electricity.
The project was funded in part by a USDA, Rural Energy for America Program (REAP) grant. These grants are competitive by state and administered through the Oregon USDA office. Hire Electric assisted the owners of Arlington Hardware with the technical aspects of their grant application.
Another incentive came from Energy Trust of Oregon's Cash Incentive program. Energy Trust is currently funding commercial project with the following programs:
Solar Feasibility—Up to $1,700 in incentives to determine the solar potential of your project.
Solar Ready Design—Up to $15,000 in incentives to build to Energy Trust solar ready standards if you can't install solar panels at the time of construction.
Solar Installation—Up to $150,000 in incentives to install a solar electric system.
Energy Trust incentives go to home owners and businesses in the Pacific Power and Portland General Electric service territories. Hire Electric is a Trade Ally of Energy Trust and we help walk our customers through this process.
Hire and Arlington Hardware hope to do a ribbon cutting and informational open house for the new solar array some time in November.
Residential solar in Arlington is also becoming very popular. Hire installed one residential system in 2015 and we are currently working on three new systems. Lower prices for solar panels and equipment combined with attractive incentives make solar a good investment for homeowners right now. Combine that with Arlington's sunshine and you have a very successful combination.
In 2015 we had the great privilege to work with Schneider Electric on a campus wide solar project at Walla Walla Community College. We installed a 48kW single axis tracking system, a 36kW solar carport and an 89kW ballasted roof mount system using SolarWorld solar modules and Schneider Electric CL inverters throughout. Here's the video: