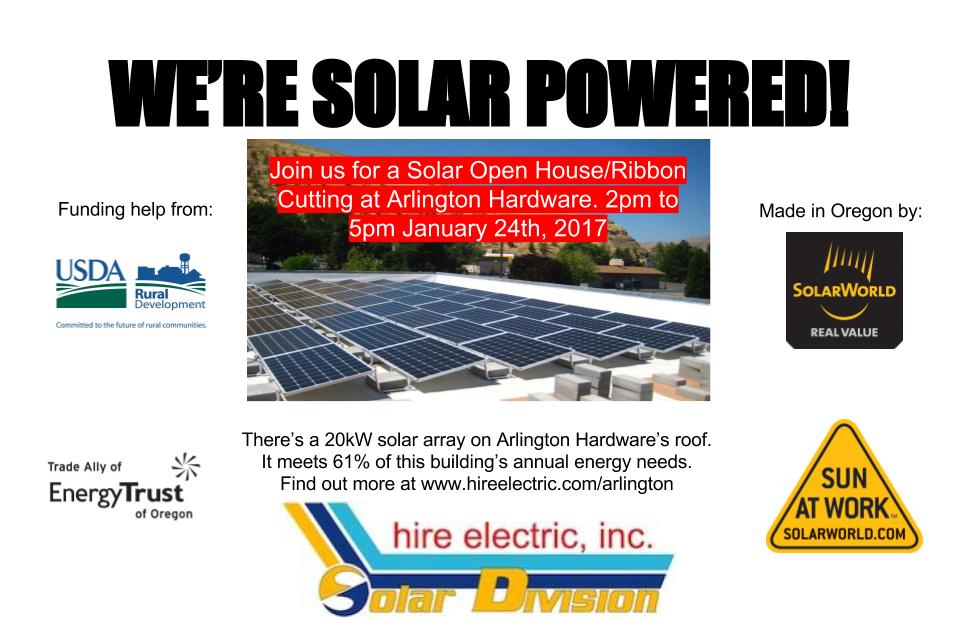 We recently installed a 20kW solar array in Arlington, Oregon on the roof of Arlington Hardware (and Liquor Store!). They will be having a ribbon cutting and open house on January 24th, 2017. The Ribbon cutting will be shortly after 2pm. Representatives from Hire Electric will be on site until at least 5pm to answer your questions. People from Energy Trust  of Oregon and the USDA will also be on hand to answer questions about available incentives. Give us a call if you have any questions 541-296-5574.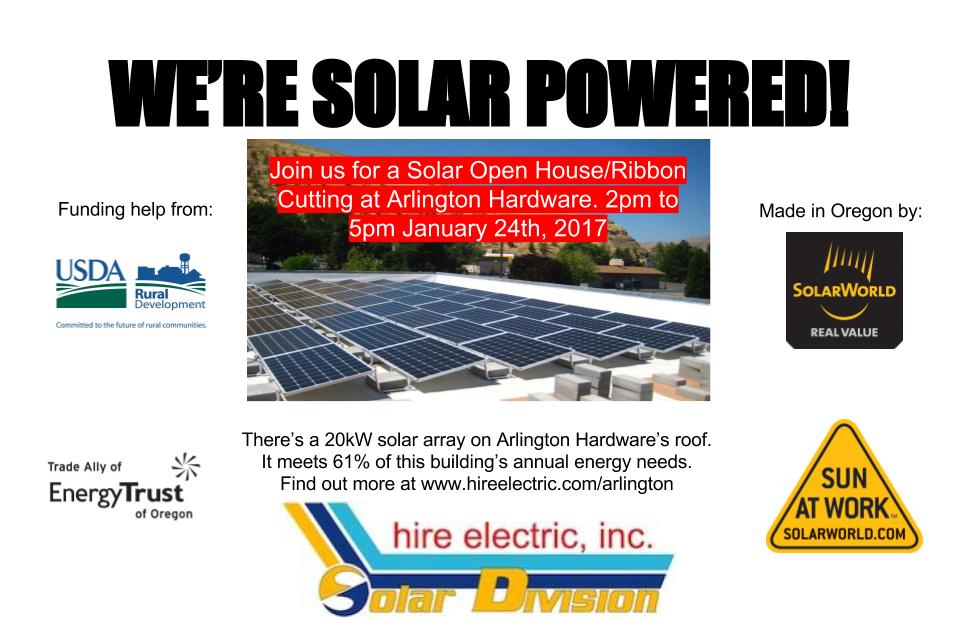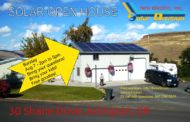 Find out how Hire Electric and the Energy Trust of Oregon can help put solar to work for your home or business in rural Oregon.
Sunday, August 7th, 2016 from 2pm to 5pm, at 30 Shane Drive, Arlington, Oregon.
Bob Skinner and Jonathan Lewis of Hire's Solar Division will be on hand to answer questions and show you how solar can make a difference on your monthly electric bill.
For more information please email bob@hireelectric.com or call our office at 541-296-5574.
Why Solar?
This is a great time to learn about solar. It's never been cheaper AND all of the incentives are still in place. Energy Trust of Oregon has a great cash incentive. Oregon Dept of Energy has a Residential Energy Tax Credit of up to $6,000 (this is on the state chopping block so it may not last long). The Federal 30% tax credit has been extended through 2020. The Hire Solar team can help walk you through all of these incentives and put together an energy system that gives you maximum return on your investment.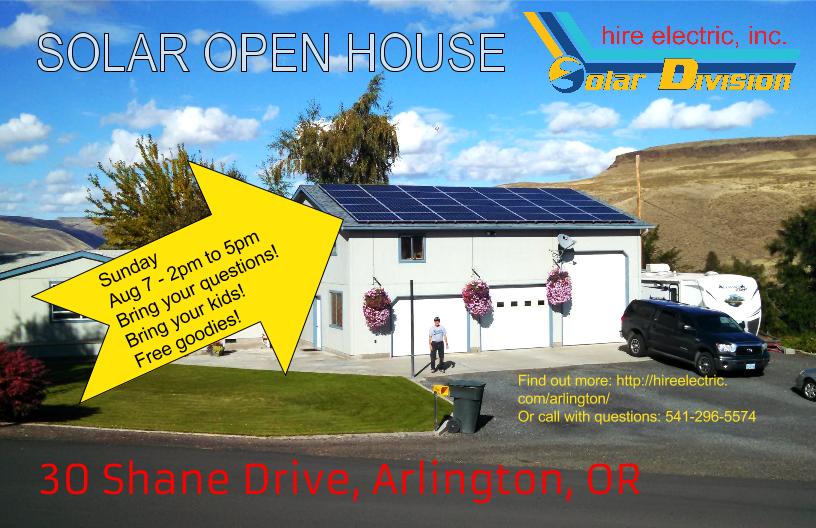 June 28, 2016 BONUS Sustainable Living Center Workshop! Solar PV with Hire Electric
If you have been curious about photo-voltaic solar systems, have wondered how much one would cost, or have heard about state and federal incentives, be sure to take advantage of this opportunity to get information and have any of your questions answered from Hire Electric's Jonathan Lewis! Hire Electric is based in The Dalles, OR but is no stranger to the Walla Walla Valley. Hire Electric has been providing education here for years and have many residential and commercial PV installations to their credit in the valley. Sharpen your pencils and get ready to take some notes!
This workshop will be held at:
WWCC Water & Environmental Center Rooms 2023/2024
640 Water Center Drive, Walla Walla 99362
June 28, 2016 6:30P to 8:00P
Come tour the WWCC solar arrays with us: