OutBack Radian Inverter and iTek Solar Panels.
We recently finished this amazing, fully Washington manufactured system in Goldendale, WA. It uses 21 – iTek 240 watt solar modules and an OutBack Radian inverter system with automatic battery back up. The system is tied to the grid and gets all the incentives available in Washington for grid-tied systems (30% federal tax credit, no sales tax, $.54/kwh (~$3200/year) performance incentive until 2020 AND net metering). PLUS it has the security of 8,000 watts of solar powered battery back up for when the grid goes down – automatically transferring away from the grid to battery power in the event of an outage. You don't even see the lights flicker when the grid goes out. And when the grid comes back on it transfers right back. The "emergency circuit" panel runs the fridge, all the lights in the house, the internet connection, computers, TV systems, kitchen receptacles (coffee maker, toaster, mixer, vitamix, etc.), microwave, auger and fan on the pellet stove, exhaust fans, garage door opener and security system. A back-up, propane generator is also in place for extended cloudy weather and prolonged power outage.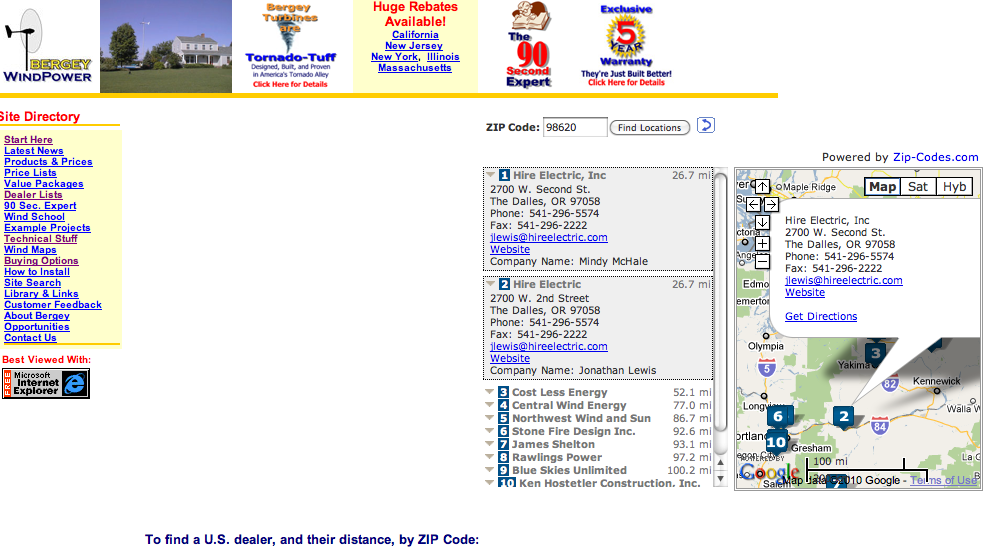 Outside of White Salmon, WA, up the windy Snowden Rd., on a ridge with sweeping views of Mt. Adams and Mt. Hood, and a small glimpse of the Columbia River and the Central Gorge, Hire Electric is putting up a 10kw Bergey. Small wind machines make for such a cool project. The trench, the foundation layout, the concrete truck, the crane and the first windy day with the meter flying backwards and the homeowner beaming from ear to ear – it just doesn't get any better than that in the renewable energy world.
Hire Electric just got listed on www.bergey.com as the installer of the Gorge. We're excited about this continued relationship. The first 10k Bergey machine we helped put up outside of Goldendale was in 2003. It's been running flawlessly ever since. Putting out a consistant 13,000kwh's per year.