City touting its charging station to lure tourists to the Columbia River Gorge
By Eric Florip, Columbian Staff Reporter, from the Columbian, Sunday, June 17, 2012
Some electric vehicle owners call it "range anxiety" — the fear that you'll take your gas-free car on a trip somewhere only to run out of juice, stranded without a charging station in sight.
Stevenson hopes to ease the worries of drivers heading into the Columbia River Gorge this summer. The city is now touting its own charging station, installed late last year and well within range of the high-powered stations popping up along the Interstate 5 corridor. It's the only station on the Washington side of the Gorge.
"You can get here easily. No range anxiety kicking in," said Moli Thomas, a Stevenson City Council member and business owner who spearheaded the idea. "But you have to recharge to get home."
Unlike others, Stevenson's charging station didn't receive any state or federal funding to get off the ground. The city, the Stevenson Business Association and the Port of Skamania County alone shared the $8,000 price tag. The station sits along Teo Park, overlooking the Columbia River below.
"We get lots of emails about how it's the prettiest charging station they've ever seen," Thomas said.
The Washington State Department of Transportation last year announced big plans for a network of stations along I-5, U.S. Highway 2 and Interstate 90, using a $1 million contract with California-based AeroVironment to make it happen. Ten stations opened last month.
The rollout hasn't been seamless. WSDOT officials initially hoped to have the charger network up and running by the end of 2011, then last March. Nearly halfway through 2012, planners are still working through the process.
Much of the delay simply stems from permitting, lease agreements and other logistical hurdles taking longer than expected, WSDOT spokeswoman Tonia Buell said.
"This is the first time anything like this has been accomplished," Buell said. "It's such a new project."
Many of WSDOT's stations are "Level 3," meaning they can charge most electric cars in 30 minutes or less. Less powerful "Level 2" stations, including the one in Stevenson, might take four to six hours. Some electric vehicle owners simply plug in at home overnight — that's a "Level 1" charge on a standard 120-volt outlet.
WSDOT's station locations along I-5 include Blaine, Bellingham, Burlington, Tumwater, Centralia, Ridgefield and Vancouver. Drivers can charge up for free, at least for now, Buell said. The electricity at Stevenson's station is also free, though the machine carries a $1 access fee.
As the peak of tourism season approaches, Thomas hopes to see new visitors in Stevenson this year, perhaps venturing where they haven't before in electric cars. That may include people coming into the city, she said, or just passing through to another Gorge destination.
Stevenson isn't the only place that's taken its own initiative to catch the attention of electric vehicle users, Buell said. Wineries and a ski resort have recently jumped on board to attract drivers along the Highway 2 corridor, she said.
A handful of charging stations popped up in Vancouver last year. The "EV Project," separate from WSDOT's effort, aims to install hundreds more across the Northwest and elsewhere. WSDOT welcomes the additions, Buell said.
"Every station out there helps build a stronger network," she said. "We're just off to the start on this."
Eric Florip: 360-735-4541; http://twitter.com/col_enviro; eric.florip@columbian.com.
Julie at the Port of Skamania says that the station is seeing 3 to 4 charges per month. These are people coming up the Gorge to shop and enjoy. When Hire electric had our Capture the Sun meeting in White Salmon, our North Coast rep spent the night in Stevenson so that he could charge his Nissan Leaf before the drive home. EV charging is a great, green way for businesses and municipalities to promote the Gorge lifestyle.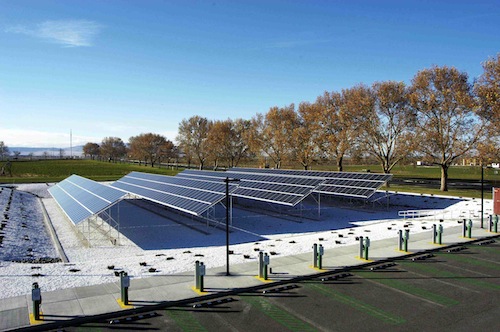 An old water retention swale at Pacific Northwest National Laboratory in Richland, Washington now plays double duty as home to 126,000 watts of solar generating capacity and twelve electric vehicle charging stations.
Hire Electric's Solar Division completed the system installation in mid November 2010. To date, this is the largest net-metered solar array in Washington state. The system uses 528 SolarWorld SW240 modules, a Satcon 110-S inverter, DECK monitoring and SunStorage's GroundMount racking system.

Twelve Coulomb, ChargePoint, two level, electric vehicle (EV) changing stations are ready for the w
ave of new EV's coming in 2011.

Satcon's inverter interacts with the utility grid. When the sun goes down power is provided by Richland PUD via the Lab's electrical service.

Randolph Construction Services of Pasco, WA was the general contractor on the project. Common Energy of Hood River, OR, GN Northern of Kennewick, WA and Bradford Engineering of Portland, OR helped with the system and electrical design. Interface Engineering of Portland, OR performed the third party commissioning.

The solar array is projected to produce
175,000 kwh's per year. EV's require about .25 kwh's per mile. That's 700,000 miles of sun powered driving per year!

This project was funded by an ARRA grant through the DOE.
Hire Electric's Renewable Energy/Solar Division specializes in on site power generation. Hire evaluates the solar and wind potential of home and businesses, then helps put together the best option for taking advantage of the available renewable resources.