BY BY Bergey…
After two years of small wind research the City of Ellensburg has decided to remove the small wind turbines at their renewable energy park.
If you're interested in an almost new Bergey you can find the auction here: http://www.publicsurplus.com/sms/all,wa/auction/view?auc=1020076
A link to the City's review of the "Smart Grid" wind project can be found here: http://www.ci.ellensburg.wa.us/DocumentCenter/View/3030
A great article on the project in the Daily Record can be found here: http://www.dailyrecordnews.com/members/city-of-ellensburg-removing-wind-turbines/article_75e8100a-3da1-11e3-95d2-0019bb2963f4.html
The Daily Record reports that: "Only three of the nine towers built — the Bergey, Ventera and Skystream-brand turbines — produced enough energy to warrant a second look." As all of you should know: Skystream closed its doors last year and Hire Electric does not install the Ventera.
Hopefully this review puts to rest (once and for all) the crazy notion of a vertical axis wind machine being viable. It's sad to see the Bergey go just because several other machines were dangerous, not delivered or underperforming. The small wind industry has been plagued with scams and ill-designed machines that come to market with almost no vetting. Unfortunately the whole industry suffers as a result.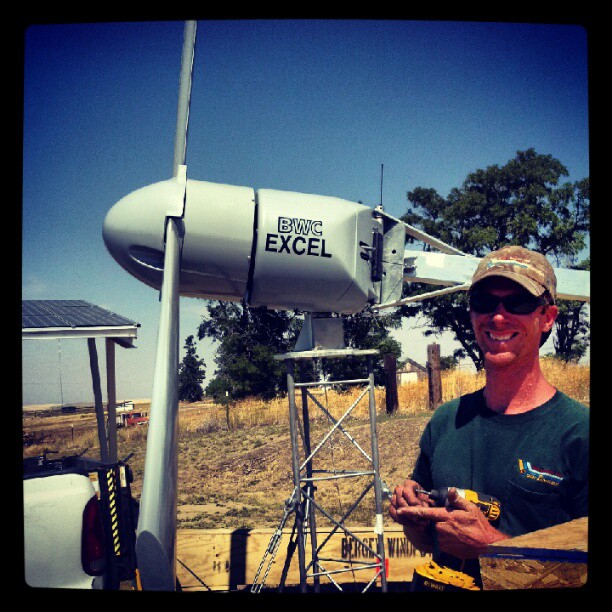 The City of Ellensburg has a Renewable Energy Park on some vacant land next to I-90. They've installed about 75kW worth of solar and are in the process of installing 8 wind turbines. 5 are in place at this time. The wind project is part of a research grant in conjunction with Pacific Northwest National Lab, the Department of Energy and the City of Ellensburg. The research focus is on various small wind technologies for residential and farm applications. Hire Electric installed the largest machine so far – a 10kW Bergey XL-S. The other machines are a Windspire, Honeywell, EnergyBall and the Skystream installed by Burke Electric of Seattle, WA. Real time data monitoring is supposed to be available for all of the machines some time this spring or early summer.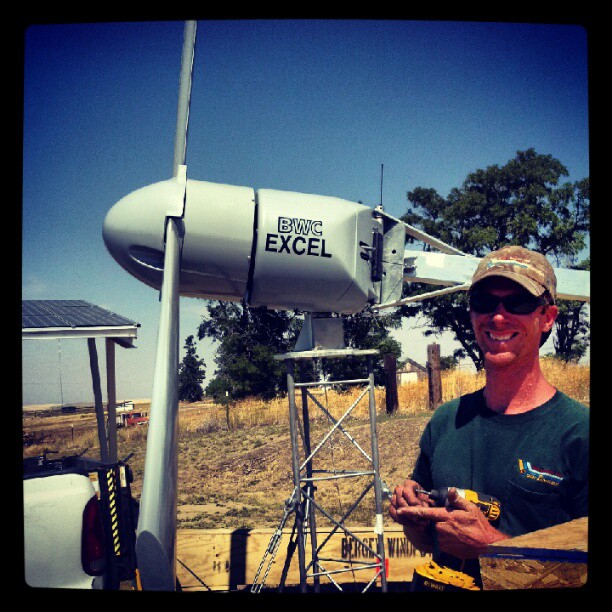 Hire Electric Completes Bergey 10kW Wind Machine at Ellensburg Renewable Energy Park.
Right off I-90 in Ellensburg Washington you might have noticed the worlds first Community Owned Solar Farm. Hire Electric recently helped the city add something a bit more eye catching than solar panels at their Renewable Energy Park: An 80′ tower with a 10kW Bergey Excel-S wind machine on top. Hire Electric will not be responsible for any distracted driving. Here are some photos of the installation.