SMA Sunny Boy inverters allow up to 1500W of back up power for when the sun is shining and the grid is down. This revolutionary new technology give homeowners added security and value from their grid tied solar array. Watch this short video to find out how it works:
To find out what items you can run with this back up receptacle you can use this handy Wattage Calculator from Consumer Reports.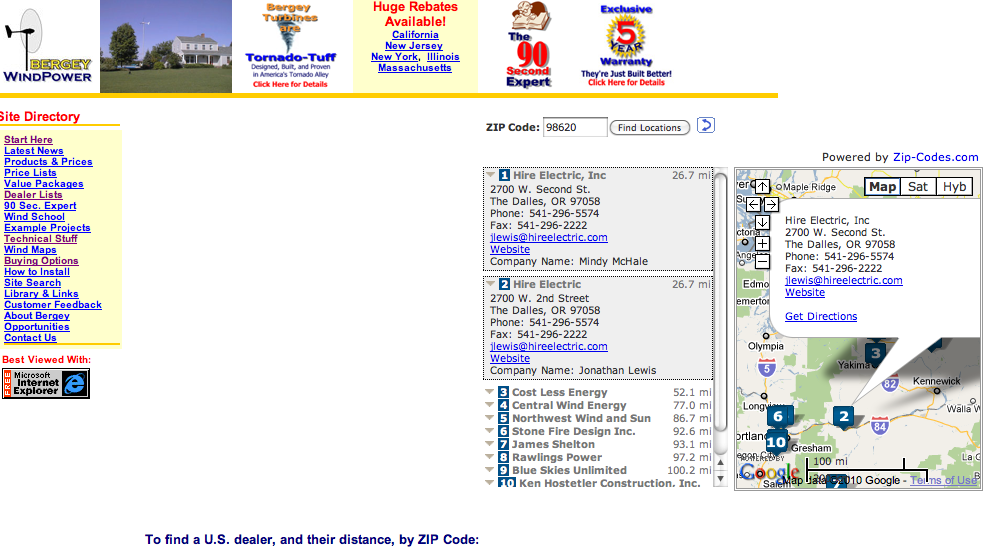 Outside of White Salmon, WA, up the windy Snowden Rd., on a ridge with sweeping views of Mt. Adams and Mt. Hood, and a small glimpse of the Columbia River and the Central Gorge, Hire Electric is putting up a 10kw Bergey. Small wind machines make for such a cool project. The trench, the foundation layout, the concrete truck, the crane and the first windy day with the meter flying backwards and the homeowner beaming from ear to ear – it just doesn't get any better than that in the renewable energy world.
Hire Electric just got listed on www.bergey.com as the installer of the Gorge. We're excited about this continued relationship. The first 10k Bergey machine we helped put up outside of Goldendale was in 2003. It's been running flawlessly ever since. Putting out a consistant 13,000kwh's per year.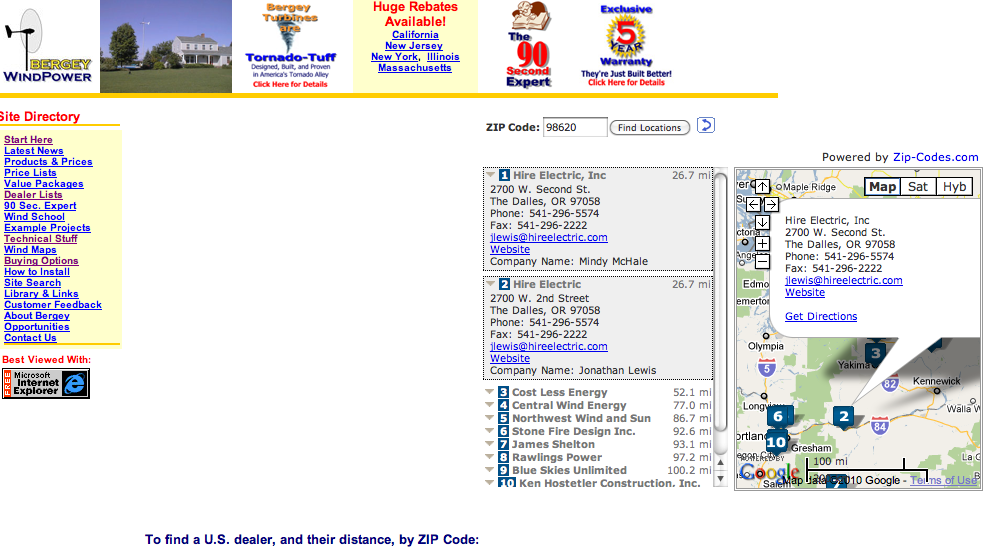 Since 1935 Hire Electric has been providing quality electrical installations to homes and businesses throughout the Columbia River Gorge. Now we are moving into the future with the latest in on-site power generating technology.
The 7.5kw solar installation will consist of 36, Sanyo 210 watt solar modules and use Enphase micro inverters to turn the solar energy into power that can synchronize with North Wasco PUD's utility grid.
Solar energy will replace about 30% of Hire Electric's current power consumption.
You can see how much power we are producing right now at our Enphase Monitoring Website.
Stop by and visit any time.
[nggallery id=3]