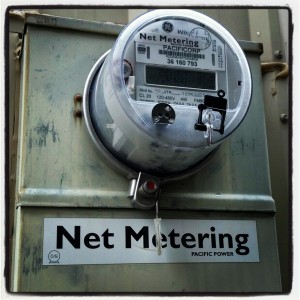 Labeling, or not labeling, is second only to grounding when it comes to solar confusion. Confusion for the installer, confusion for the electrical inspector and confusion for the utility. At Hire Electric we've evolved into a system over the past 12 years that works pretty well for all parties involved. Now the NEC is changing things up a bit by coming in line more with warning and safety labeling standards from the American National Standard Institute (ANSI) Z535.4 – 2011 per Article 110.21(B).
Yellow and red and orange…oh, my. Different fonts and different colors, sizes and shapes. A whole new world to learn and comply with.
I found this article from Solar Industry Magazine that sums up the issues pretty well: "New Labels Bring Clarity to PV Infrastructure"
One thing to keep in mind for Net Metered systems is that NEC compliance does not necessarily mean utility compliance. Often times power companies have another set of standards or rules or arbitrary wishes that they want you to comply with. At Hire we deal with 16 different utilities throughout Washington and Oregon. Each one is slightly different.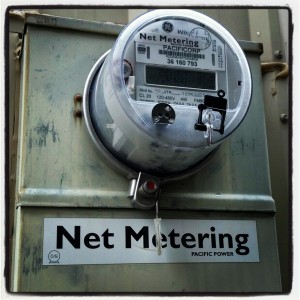 Gorge Owned sponsored GO! Talks this fall in Hood River and Hire's Jonathan Lewis gave an historical energy tour around the gorge with a pitch for a new Rural RE Electrification Act:

The issues haven't changed much since 1911's debate over cheap electricity. Public Power vs Private Power:
The reason was a difference in service philosophy. Public electric systems were intent on making electricity abundant and cheap; private companies knew that scarcity meant higher prices, and had no incentive (so they thought) to increase supply and reduce rates.
This is from an October 2013 Ruralite Magazine article on the history of public power in Klickitat County: From Wild Horses to Horsepower, Pages 28-29 Public Power was an uphill battle but our modern rural counties would not be the same without it.
Today's debate over Net Metering and the benefits of distributed generation to the utility come down to much the same issue: do we believe in abundance for everyone or are we motivated by controlling resources and creating a false scarcity?
Seth Masia for ASES pens the debate this way:
In 1989, a power engineer for Pacific Gas & Electric Co. named Dan Shugar proved that distributed solar reduced the peak loads handled by transmission lines and transformers. This meant that a utility company could save a lot of money by encouraging small solar installations scattered around its service territory. When air conditioning loads are met in part by power generated in the neighborhood, it reduces the need for expensive new power lines from central generating plants. It even reduces the need for expensive new generating plants.
That's still true. The more distributed power comes on the grid, the less ratepayers must pay for new and upgraded facilities. A number of municipal utility districts (notably in Sacramento, Calif. and Austin, Texas) have made good use of distributed power to cut their maintenance and infrastructure costs. Austin utility calculates that the value of solar to its own operations is more that 12 cents per kilowatt-hour, and that's what it pays for rooftop power. The argument was so persuasive that over the years, 43 states have adopted net-metering rules to encourage distributed solar.
But investor-owed utility companies (IOUs) don't see it that way. What they see is that they make money by selling electricity, and owners of rooftop solar buy less of that. And they see that they have traditionally made money by building new generating and transmission facilities (most regulated utilities are allowed to earn a profit on everything they build or buy, from nuclear plants to coal).
Let's make sure that, as inheritors of the NW Public Power legacy we continue to vote for abundance.