About 5 years ago we installed solar on a Net Zero home in The Dalles, OR. Recently the homeowners were able to retire to Milton Freewater, OR. They wanted solar on their new home. The roof was not optimal but the incentives were excellent with Energy Trust of Oregon, Oregon Residential Energy Tax Credit and the Federal tax credit all in full swing. The main surprise for these homeowners is how much less this larger system cost them compared to the one they bought 5 years ago. "The price drop is astounding. I feel like I'm cheating!" The new system used 17 – SolarWorld 255 watt mono crystalline solar panels and Siemens micro inverters for a 4.3kW rated system.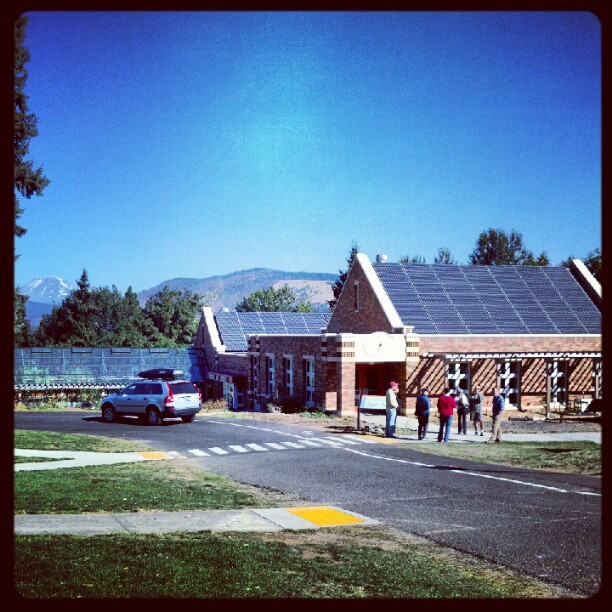 The Hood River Middle School Music and Science Wing that Hire Electric put 35kW worth of solar on in 2010 has been certified to meet their net zero goal AND the project was awarded the 2012 Top Ten Green Projects Program Award by the American Institute of Architects.
Opsis Architects did the design
Interface Engineering was the engineer for the project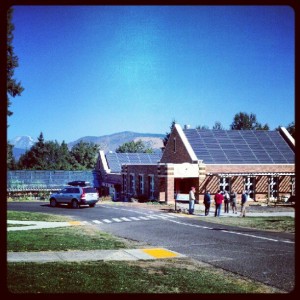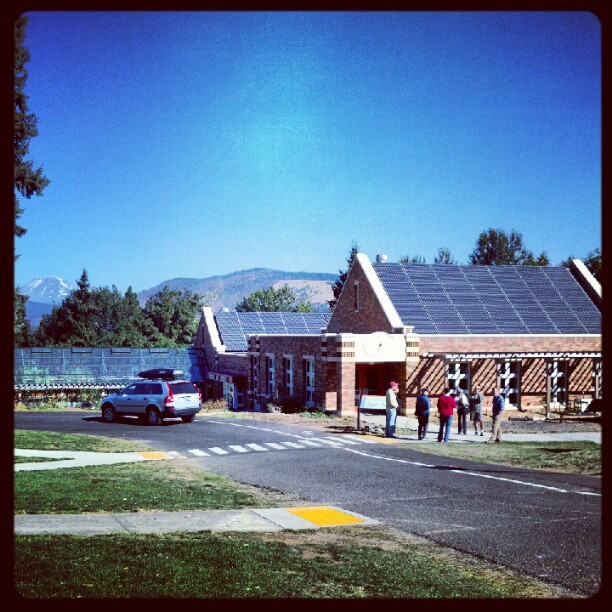 Energy Alternatives and Efficient Building
a workshop and tour to help reduce energy consumption …the Path to Net Zero!
Energy Alternatives and Efficient Building will include a day of presentations, discussions, demonstrations and tours to learn about technologies used in net-zero home construction and low- to net-zero energy use by businesses.
Date: Saturday, November 5, 2011. Program begins at 8 a.m. at Columbia Basin College, in the new Center for Career & Technical Education, 2600 N. 20th Avenue off Argent Road on Tech Way.
Cost: $5 for morning session only (includes refreshments) $12 for the afternoon session, which includes demonstrations, tours, and lunch $15 for both morning and afternoon sessions!
AGENDA & DEMONSTRATION LOCATIONS: 8am – 8:45am: Introduction to the Sustainable Energy & Environmental Network and ways to get involved
8:45am – 9:30am: Tyson Pischel with Pischel Construction and Green Builder Warehouse, will share his hands-on, real-world experience of building affordable, energy efficient homes.
9:30am – 10:15am: Jonathan Lewis with Hire Electric will explain the benefits and use of solar photovoltaic (electric energy).
10:15am – 11:30am: Ray Lam with Silk Road Environmental will present and demonstrate the company's solar thermal system.
LUNCH / 12pm to 1pm: Meet at Entrees Made Easy, 127 Gage Blvd (not far from Costco and next to Bonefish Grill), in Richland
1:15pm: Tour of net-zero home, built by Pischel Construction, in the Creekstone Community of Kennewick.
2:15pm: Badger Mountain Winery, demo of solar PV sytem installed by Hire Electric and tour of winery with no- host wine tasting!
IMPORTANT! Transportation is not provided. Carpooling is encouraged.
Registration: Contact Kelsey Myers 509.542.4832, kmyers@columbiabasin.edu Deadline: October, 30th 2011