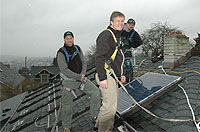 Watering the Seeds of Innovation
Originally published by DOE on www.solar.energy.gov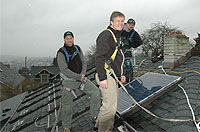 Seattle City council member Mike O'Brien (center) takes a hands-on approach to supporting a group purchase program through Northwest SEED Solarize Washington.
Image from ESSP
Communities across Washington State will soon have access to more affordable residential and small commercial rooftop solar systems, thanks to the work of DOE SunShot Initiative awardee Evergreen State Solar Partnership (ESSP). The Rooftop Solar Challenge I team convened jurisdictions, utilities, and industry partners representing a regulatory and market environment as varied as the state's diverse ecosystems to lower the costs of rooftop photovoltaics (PV).
ESSP, which grew from the vision of the Northwest Sustainable Energy for Economic Development (Northwest SEED) and the WA Department of Commerce, State Energy Office, is one of 22 Rooftop Solar Challenge teams wrapping up year-long efforts to reduce the soft costs of solar.
"Previously, several of the participating jurisdictions required a plan review, building permit, and electrical permit for every installation project," said Jennifer Grove, Executive Director of Northwest SEED. "Now, installers are able to complete a more straightforward permitting process with lower fees and may not have to complete a structural review or building permit for simple rooftop solar projects."
ESSP is also developing a standard interconnection application agreement that incorporates net metering, interconnection, and production metering all into one application. When approved, the agreement will be applicable to the largest utility in the state, with other publicly owned partner utilities following suit.
According to Grove, the group's successes have come from engaging a dedicated team and delegating tasks for maximum efficiency. "ESSP is a diverse partnership, and each entity uses its unique connections and affiliations to reach out as needed to achieve streamlined permitting and interconnection."
For example, the State Energy Office met with legislators on proposed reforms to WA solar incentives. Sustainable Connections—a non-profit group representing NW Washington business and community leaders—made phone calls to the top installers in the state to solicit project feedback. Meanwhile, Northwest SEED worked with policy advocates to clarify third-party ownership models and improve the state's net metering law.
Four cities—Bellevue, Edmonds, Ellensburg, and Seattle—and the utilities that serve them—Puget Sound Energy, Snohomish PUD, the City of Ellensburg, and Seattle City Light—are now transforming the state's solar landscape. Together, they are leading ground-level efforts to make processes more efficient and predictable across 285 cities, 39 counties, and 62 utilities.
To enable its work to be replicated in the market, ESSP has conducted webinars through the Municipal Research and Services Center of Washington, published reports on permitting, interconnection, financing, and zoning, and delivered public presentations at energy events such as the Future Energy Conference, Solar Washington Membership Meetings, Northwest Environmental Business Council luncheon, and World Renewable Energy Congress. The project has been featured in local news such as the City of Bellevue's online newspaper.
This project is funded by the Rooftop Solar Challenge program under the U.S. Department of Energy SunShot Initiative.