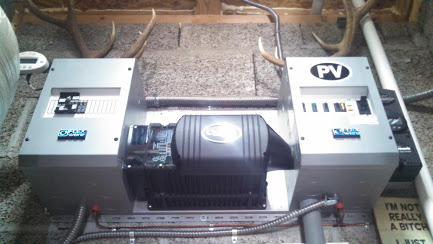 We installed this OutBack Power System in 2006 at an off grid "cabin". Eight years later it is still running strong. Just back to get the cabin ready for full time retirement living. Hooked them up to the grid and added a 7.95kW iTek Energy system. Now they've got the Outback system as a 1st class back up and grid support.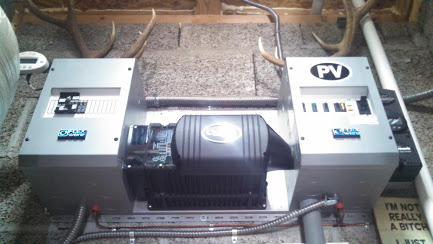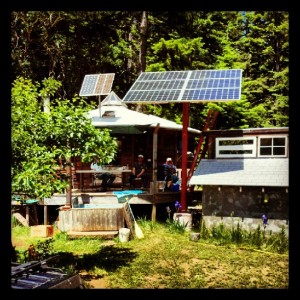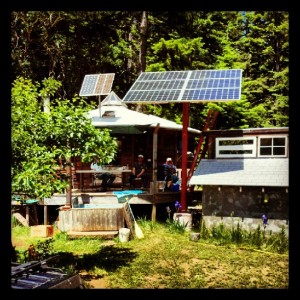 Solar Powered Coffee 2012
There's just something magical about off grid solar living. The independence. The connection with the rhythms of nature and cycles of the sun. The sunny days when you have more power from your solar panels than you can use so you plug in the ice maker and the Vita Mix and make solar powered frappuccinos; and sit under the shade of the array, on the porch next to the wood fired hot tub, with some good friends and just enjoy the world going around…
We just finished this 1.56kw solar project this week: DP&W Top of Pole Mount; Suniva 255W solar modules; 8 – Trojan L16-H batteries for a 48V system; Outback Energy's new 8kw, 240V Radian inverter system; Midnight Solar Charge Controller; Generator input for those long cloudy winter days when it's absolutely necessary (and only when it's absolutely necessary). The Washington State electrical inspector gave us a thumbs up and said "I wish you guys could do all these systems I see."
At Hire Electric this is what gets us up in the morning (and the solar powered coffee keeps us going in the afternoon). It just doesn't get much more rewarding than wiring an off grid home in the middle of nowhere and seeing the customer smile from ear to ear when they realize they don't have to run that noisy, stinky generator any more. We call it the solar powered smile effect: Stay sunny and keep smilin'.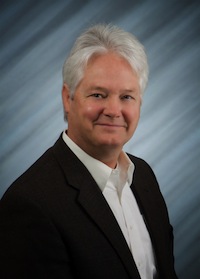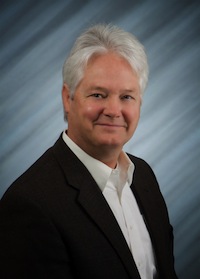 Hire Electric's Bob Skinner has lived off grid since 1993. He's been doing professional solar design since 2005. So, not only does he have very real world experience living day to day with solar he has also developed amazing expertise in the world of grid connected residential and commercial systems. Recently he sat for the rigorous North American Board of Certified Energy Practitioners, Technical Sales Certification Test. We were not surprised to hear that he passed with flying colors. This test covers all the fundamentals of quality system design; from siting to shading to electrical tie in to financial analysis and beyond. Bob does an outstanding job in helping our customers realize the greatest potential from their roof and their pocketbook. We want to congratulate him on this accomplishment and thank him for his dedication to the solar industry and excellent service to our customers.
Go Bob!