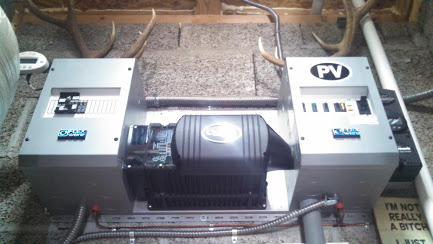 We installed this OutBack Power System in 2006 at an off grid "cabin". Eight years later it is still running strong. Just back to get the cabin ready for full time retirement living. Hooked them up to the grid and added a 7.95kW iTek Energy system. Now they've got the Outback system as a 1st class back up and grid support.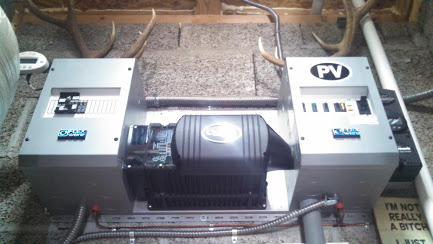 Originally posted on edn.com
GSLC175-AC AC coupled solution partners with a more advanced inverter/charger to create higher-performing backup power for existing PV systems
OutBack Power Technologies, Inc. introduced the general availability of its FLEXcoupled AC coupling solution. The integrated system allows installers to more easily retrofit grid-tied solar power systems with advanced grid-hybrid capability, enabling owners to store energy from their PV systems while tied to the grid and use it during utility outages and emergencies.
For owners of grid-tied systems, the AC Coupling GSLC175 system delivers all of the energy storage benefits of grid-hybrid systems in an advanced, electro-mechanical solution.
Energy-storage-based systems represent the largest growth area in solar installations today, but for the many owners of grid-tied, grid-dependent systems that don't deliver electricity when the utility goes down, AC coupling is increasingly a viable option to maximize existing PV system investments by adding backup power functionality. With grid failure and instability on the rise and so-called 100-year storms now annual events, energy storage is essential to provide true power reliability and independence.
This AC coupling system is unique in that its foundation is the Radian inverter/charger which already incorporates desirable AC coupling features including split-phase capability, dual AC inputs, transfer switching, power management flexibility, multiple operational modes for a wide range of energy scenarios, and greater dynamic stability. This enables an advanced electro-mechanical coupling center (the GSLC 175-AC-120/240) to achieve AC coupling instead of relying on costly, complex frequency circuitry, transformers and diversion loads used in some conventional systems. This system enables users to allocate a budget for professional-grade energy storage with Energy Cell GH batteries instead of the minimalistic batteries and boxes that are bundled into multi-brand systems. The AC coupling is UL1741-compliant from end-to-end, and it creates generator-friendly battery backup power for existing grid-tied inverter systems.
See Outback's white paper with more technical details on EDN's Power Management Design Center
For more information visit the Outback Power website.
OutBack Radian Inverter and iTek Solar Panels.
We recently finished this amazing, fully Washington manufactured system in Goldendale, WA. It uses 21 – iTek 240 watt solar modules and an OutBack Radian inverter system with automatic battery back up. The system is tied to the grid and gets all the incentives available in Washington for grid-tied systems (30% federal tax credit, no sales tax, $.54/kwh (~$3200/year) performance incentive until 2020 AND net metering). PLUS it has the security of 8,000 watts of solar powered battery back up for when the grid goes down – automatically transferring away from the grid to battery power in the event of an outage. You don't even see the lights flicker when the grid goes out. And when the grid comes back on it transfers right back. The "emergency circuit" panel runs the fridge, all the lights in the house, the internet connection, computers, TV systems, kitchen receptacles (coffee maker, toaster, mixer, vitamix, etc.), microwave, auger and fan on the pellet stove, exhaust fans, garage door opener and security system. A back-up, propane generator is also in place for extended cloudy weather and prolonged power outage.