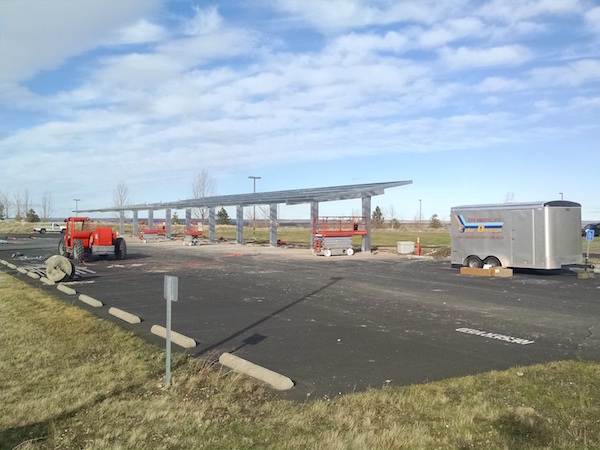 In their continuing quest to reach net zero energy consumption, Tamástslikt Cultural Institute in Pendleton, Oregon is building two solar carports in their parking lot. This follows installation of a wind turbine last year.
With a portion of a grant from Pacific Power Blue Sky of Oregon for $350,000 and a cash award from the Energy Trust of Oregon in the amount of $78,138, Tamástslikt was able to start construction this week on two solar carports with a total rated capacity of 123kW.
The 432 – SolarWorld 285 watt solar panels were manufactured in Hillsboro, Oregon and will produce about 140,000kW hours of electricity per year – enough to power thirteen average Northwest homes.
Hire Electric, who installed the 50kW wind turbine at Tamástslikt in early 2014, is constructing the carports. Hire Electric has been installing solar and small wind systems in eastern Oregon and Washington since 2003.
The project was able to employ a recently certified welder, Charles Woods who just graduated from the CTUIR/TERO welding program.
~Press Release by Michelle Liberty
Here's an article about the project in the East Orgonian: Solar Carports Built at Tamastslikt 12/25/2015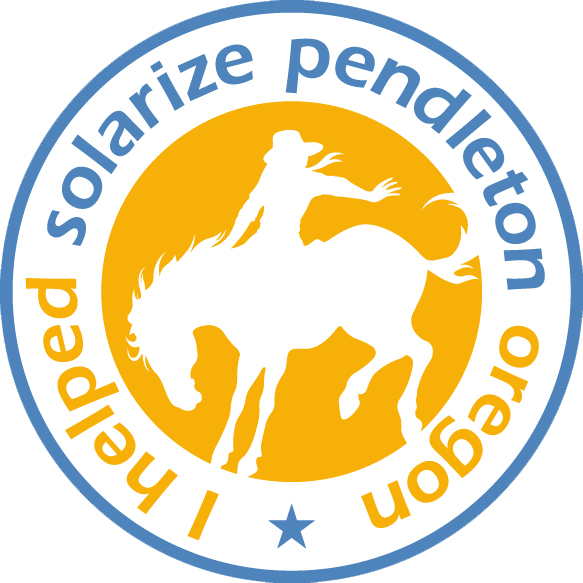 Pendleton has an exciting history of utilizing renewable resources. Hire Electric is pleased to partner with the city in offering an informational seminar on the benefits of going solar in Eastern Oregon. We'll be meeting at the Pendleton Convention Center, 1600 Westgate Avenue, new east wing conference room. Date: Thursday, 2/26. Time: 6 pm to 8 pm.
Come find out about the incentives that are still available:
$.75/watt from Energy Trust of Oregon

$6000 Residential Energy Tax Credit – off your Oregon State Taxes
30% Federal Tax Credit
0% Interest Loan Program from the City of Pendleton
Find out more here: http://www.pendleton.or.us/energy/solarize