OutBack Radian Inverter and iTek Solar Panels.
We recently finished this amazing, fully Washington manufactured system in Goldendale, WA. It uses 21 – iTek 240 watt solar modules and an OutBack Radian inverter system with automatic battery back up. The system is tied to the grid and gets all the incentives available in Washington for grid-tied systems (30% federal tax credit, no sales tax, $.54/kwh (~$3200/year) performance incentive until 2020 AND net metering). PLUS it has the security of 8,000 watts of solar powered battery back up for when the grid goes down – automatically transferring away from the grid to battery power in the event of an outage. You don't even see the lights flicker when the grid goes out. And when the grid comes back on it transfers right back. The "emergency circuit" panel runs the fridge, all the lights in the house, the internet connection, computers, TV systems, kitchen receptacles (coffee maker, toaster, mixer, vitamix, etc.), microwave, auger and fan on the pellet stove, exhaust fans, garage door opener and security system. A back-up, propane generator is also in place for extended cloudy weather and prolonged power outage.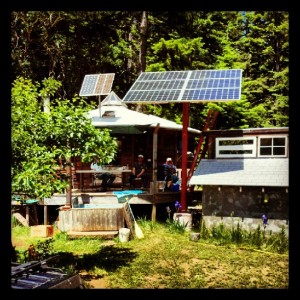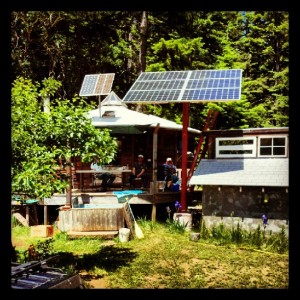 Solar Powered Coffee 2012
There's just something magical about off grid solar living. The independence. The connection with the rhythms of nature and cycles of the sun. The sunny days when you have more power from your solar panels than you can use so you plug in the ice maker and the Vita Mix and make solar powered frappuccinos; and sit under the shade of the array, on the porch next to the wood fired hot tub, with some good friends and just enjoy the world going around…
We just finished this 1.56kw solar project this week: DP&W Top of Pole Mount; Suniva 255W solar modules; 8 – Trojan L16-H batteries for a 48V system; Outback Energy's new 8kw, 240V Radian inverter system; Midnight Solar Charge Controller; Generator input for those long cloudy winter days when it's absolutely necessary (and only when it's absolutely necessary). The Washington State electrical inspector gave us a thumbs up and said "I wish you guys could do all these systems I see."
At Hire Electric this is what gets us up in the morning (and the solar powered coffee keeps us going in the afternoon). It just doesn't get much more rewarding than wiring an off grid home in the middle of nowhere and seeing the customer smile from ear to ear when they realize they don't have to run that noisy, stinky generator any more. We call it the solar powered smile effect: Stay sunny and keep smilin'.