The Moro Seminar turned out great. We had John Foster of Moodie Wind Energy and Chris Dearth of Energy Trust of Oregon there. 20 people showed up and there was a real enthusiasm for making energy at home. Many folks in Sherman County are benefitting from big wind farms but they still have an electric bill from coal fired generation. With a net metered wind or solar system they can change that.
Chris Dearth shared that Energy Trust's wind program can pay for 60% of the system cost and the federal tax credit pays for 30%. I did a little math and that leaves only 10% cost of a wind machine as the owners responsibility. With the kind of wind they get in Sherman and Gilliam counties the energy saved will pay for a machine in less than 5 years. Our Bergey wind machines have a 10 year warranty and 30 year design life.
New OSU Extension-Experiment Office

66365 Lone Rock Road

Moro, OR

When

Thursday, November 15, 6:30pm – 8:00pm

Solar & Small Wind Seminar sponsored by Energy Trust of Oregon, Bergey Wind and Hire Electric in
Hire Electric has done five solar project in Sherman County to date and we are very excited about the county's new loan program. Incentives in the form of state and federal tax credits help to pay for the cost of going solar but sometimes the upfront cost for the system (while you're waiting for the tax credits to come through) can be a roadblock. This loan program will help cover these upfront costs.
The first step in qualifying for a loan from the county is to have a site assessment of your home or business's solar potential done by a local solar installer. Hire Electric offers free phone and computer consultation to determine if you have a good site. If you're a good candidate for solar we then charge $150 for a complete site analysis (our normal site analysis fee is $250 but we are offering this reduced rate to Sherman County residents through the end of October). We evaluate your electrical connection, shading, optimal layout, incentives available, etc. We will also do all of the paperwork for your loan application, Oregon Residential Tax Credit Certification and Energy Trust of Oregon Incentive approval. The $150 solar analysis fee is deducted from your purchase price if you move forward.
At this time wind systems are not part of the loan program.
Come find out more at the solar ribbon cutting on August 14th at the RV Park in Moro – by the fairgrounds.
Now is the time to go solar flier with sample system prices and payback.
From MCEDD newsletter:
Sherman Solar Loan Program
Sherman County has a loan program to promote the deployment of solar electric and hot water systems on homes in the County.

Modeled after the City of Pendleton's successful program, the County will provide no-interest, short-term loans to residents. The loan amounts will match what a property owner could receive in state and federal tax credits in 2012 to help finance the gap between the last payment to the contractor and when they receive their tax credits. Loans are available for both Pacific Power and Wasco Electric customers and for both solar electric and solar water heating systems.

More information about the program can be found on the County's website at www.co.sherman.or.us or contact Jessica Metta with questions at 541-296-2266 or Jessica@mcedd.org.

MCEDD provides staffing to Sherman County for economic development activies. For more information contact Jesscia Metta 541-296-2266.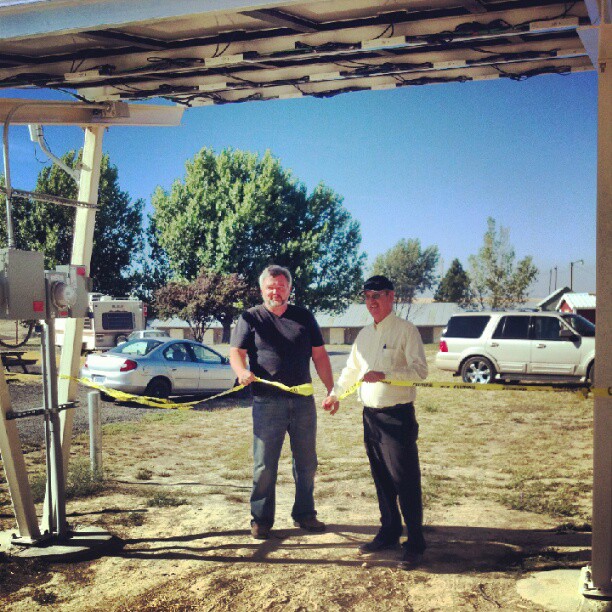 Ribbon Cutting, Hot Dog & Water Melon Feed
August 14, 2012 – 3pm to 6pm – Open house – Ribbon Cutting at 5pm
Sherman County RV Park, Moro, Oregon
In the early spring of 2012 Hire Electric installed a solar awning structure for Sherman County at their RV Park. On Aug 14 the county will be holding a ribbon cutting to celebrate the project. Hire Electric will be providing hot dogs and watermelon and we'll be on hand to answer any questions you might have. See live energy data from the solar array.
ZERO INTEREST LOAN PROGRAM: Sherman County just announced their zero interest loan program for solar! This will be a great opportunity to find out more!
ENERGY TRUST of OREGON SMALL WIND INCENTIVE: "This is the biggest small wind incentive in the country!" Energy Trust's incentive for small wind systems (residential/farm scale, under 100kW) can help cover up to 90% of the system cost for qualifying machines for Pacific Power and PGE customers using Energy Trust Small Wind Trade Allies. We will have a Bergey 10kW wind machine at this event to display.