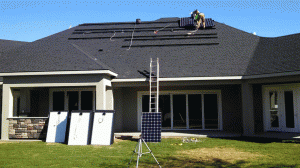 We're in the Parade of Homes September 2014!
One of this year's solar customers is having their home showcased in the Tri-Cities Home Builder's Association's Parade of Homes. It's a lovely 7.02kW system using products manufactured in Washington State.
You can find out about the Parade of Homes schedule here: Parade of Homes Schedule and Ticket Info.
Stop by and talk to a Hire representative about how solar can make you money in the Tri Cities!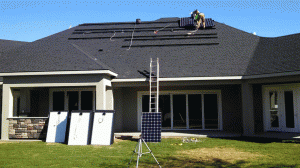 SAT: @HBAEvents Parade of Homes. @iTekenergy on the Don Pratt home: 5001 W 20th, Kennewick http://t.co/2ymlFAMWLH pic.twitter.com/hhf6BjMmDq

— Hire Electric Solar (@hireelectric) September 4, 2014
Join us on Nov 3rd – Solar Block Party in West Richland, WA. Two neighbors went solar as part of this summer's Solarize Mid Columbia Campaign and we're going to celebrate with a Solar Block Party. You'll be able to talk to the Solarize board and other Solar customers. There's a park across the street so bring the family. Let us know your favorite sun themed song so DJ SunRay can mix it up. Drinks and hamburgers will be first-come-first-served. Several electric cars will be visiting – bring one if you've got one and show it off. The Solar Powered Seahawks will be playing in the garage so you won't miss a thing. Get off the couch and join the party! 12pm to 3pm. Download and share the flier/map.
Please RSVP so we know how many burgers to grill up:
WANT TO BRING SOLAR TO YOUR COMMUNITY?
This hands-on workshop will enable you to launch your own solar group purchase campaign and bring clean energy to your neighborhood! This workshop offers:
Solar PV Basics
Workbook of Solarize tips and templates
Lessons from other Solarize campaigns
Networking opportunity Catered lunch!
Attend the Workshop! PRINT THE FLIER
Friday, January 25
10:00AM-1:00PM
Richland Public Library
955 Northgate Dr.
Register at http://solarizetricities.eventbrite.com
$20 includes lunch and materials Questions? linda@nwseed.org or (206) 267-2215
Brought to you by NorthwestSEED
Sponsored by itek Energy & Hire Electric
Get the Solarize Guidebook here.