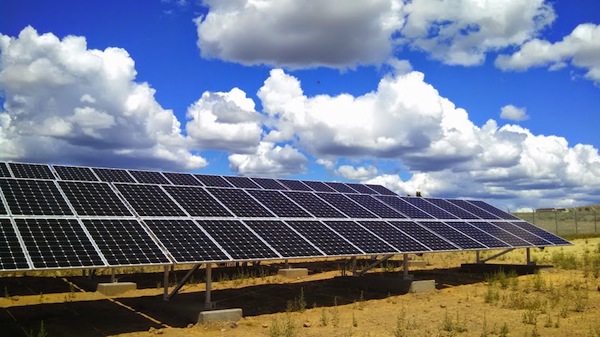 FREE Workshops
November 20, 2014, 9:00 – 11:00 a.m.
USDA Service Center 1606 Perry Street Yakima, WA 98902
509-454-5743, ext. 134
December 4, 2014, 9:30 – 11:30 a.m.
Grant County Public Works Building 124 Enterprise Street SE Ephrata, WA 98823
509-754-6082
RSVP:veronica.baer@wa.usda.gov
Renewable Energy and Efficiency Grant Proposals Workshops about Financial Incentives for Farms, Ranches, and Rural Small Businesses.
USDA Rural Development is sponsoring two Renewable Energy/Energy Efficiency workshops The workshops are FREE and include information about the funding available to farms, ranchers and small businesses through USDA's Renewable Energy for America Program (REAP). Eligibility requirements and sample project proposals will be discussed.
The 9007 Renewable Energy and Energy Efficiency Improvements Program can pro-
vide guaranteed loans, grants, and a combination loan and grant to eligible applicants for eligible projects and costs. Eligible projects for renewable energy systems include such things as wind, solar, biomass, or geothermal systems. Energy Efficiency projects, for example, can be for such things as upgrading electrical motors, insulation, or heating, cooling and lighting upgrades.
These workshops will provide information for prospective applicants on the USDA Rural Development Renewable Energy and Energy Efficiency program, including:
• Eligible Loan/Grant Purpose
• Financial Information
• Application Tips
• Eligible Applicants
• Maximum Loan and Grant Amounts
• Funding Availability
For additional information, please contact the specialist serving an area closest to you:
Eastern Washington
Roni Baer
veronica.baer@wa.usda.gov
(509) 454-5743, Ext. 134
For information about Oregon's REAP program contact:
John Holman
Business Programs
Rural Development – Oregon
United States Department of Agriculture
1201 Northeast Lloyd Boulevard, Suite 801 |Portland, OR 97232
Phone: 503.414.3369 |E-mail: john.holman@or.usda.gov
http://www.rurdev.usda.gov/OR_Home.html | "Committed to the future of rural communities"
Hire Electric can provide evaluations, technical assistance, and installation for on farm energy systems of all types.
Rural Energy Assistance for FY 2014
Since it was first authorized in the 2008 Farm Bill–and now reauthorized for another five years with dedicated funding through the Agricultural Act of 2014–the Rural Energy for America Program (REAP) has helped thousands of businesses, farms and ranches nationwide advance a variety of renewable energy and energy efficiency projects. Between 2009 and 2013, in fact, Oregon's REAP program contributed to more than 150 renewable energy and energy efficiency projects installed to create or save more than 36.9 million kilowatt hours. That's enough to power 3,689 average U.S. homes annually!
USDA accepts applications on a continuous basis with funding decisions made once per year. The application cutoff date for 2014 has not yet been announced, but is expected to be in the coming couple of months. If you are working on an on-farm or rural business-based project, you may be able to apply this year. Keep in mind, however, only expenses accrued post-application are eligible for funding. Interested applicants should contact USDA Rural Development now to determine the viability of completing an application by the 2014 deadline.
Hire Electric has helped several farm and winery customers with successful REAP grant technical applications. Let us know if you have an energy project you'd like to see happen at your farm.
Happy Labor Day!

We've had a very busy summer here at Hire Electric with a number of jobs lined up for the fall including a Bergey wind machine for the City of Ellensburg; solar and small wind at Kaclec Medical Center in Richland, WA; and a 130kW array for the Oregon Military Department in Chrismas Valley, OR. With all this labor it's nice to have a day off to kick back and celebrate. Thank you all for your support over the years and we hope you have a wonderful holiday.

Site Analysis
To find out if your home or business is ready to go solar, give us a call and we can talk about a site analysis.

www.hire-solar.com
541-296-5574

Badger Mtn. Open House!
Kennewick's Premier Organic Winery Goes Solar. In the fall of 2007 we put up a 3kW solar array on the tasting room at Badger Mountain/Powers Winery. This was our first commercial solar project and very exciting for both Hire and Badger. Since that time we've been trying to help the winery secure a USDA REAP grant to install more solar on their barrel storage building. Each year we would get turned down. Fire, aim, fire, aim, fire…2011 the winery hit the grant jackpot and was awarded funding by the USDA. Last week Hire completed the installation. At 2,200 square feet and 36.4kW, it is the largest of its kind at any winery in Washington State.

Consequently, the winery is planning an open day to celebrate this project. The intended schedule for the event is

Tuesday, Sept 6th, from 10:30am to 1:30pm

, at the estate.

http://www.badgermtnvineyard.com/

The list of people attending includes Chris Cassidy, the National Business Renewable Energy Advisor for USDA National Office in Washington, D.C.; Robin Pollard, Executive Director of the Washington Wine Commission; and Kent Waliser, Chairman of the Washington Wine Commission. The gang from Hire Electric will also be on hand to answer questions and bask in the sunshine.

You're all invited. Hope to see you there!

To see how much power Badger Mountain's solar array is producing click here.



This event went really well. Tom Osborn from the BPA showed up with his camera, several people from USDA were there, folks from Benton PUD came by as well as many others. Greg Martin from Northwest Ag Information Network of Kennewick, WA did a radio spot on Greg Powers and Robin Pollard. A TV crew from KNDU was also on hand.
http://www.winepressnw.com/2011/09/03/7246/powers-winery-vineyard-embraces.html
Interview with Jonathan Lewis about the installation: http://www.aginfo.net/index.cfm/event/report/id/Line-on-Agriculture-20131