In March Klickitat PUD capped out their solar incentive program. Just last week Benton REA closed their program to new participants. Little by little the rural utilities we work with in Washington State are reaching their Production Incentive cap of .5% of annual taxable power sales. We just got this letter from our Washington State Solar Trade group – Solar Installers of Washington that explains the situation and gives you some ways to help:
September 24, 2015
PRODUCTION INCENTIVE CAPS REACHED
Solar installations in Washington have been booming thanks to a successful incentive program. Now several utilities in Washington report that they are close to hitting their solar production incentive pay-out caps.
This means that the amount of annual production incentive you receive could be reduced, depending on your utility and depending on what happens in the upcoming legislative session.
Installers are just being notified of this issue in the Seattle and PSE service territories. The existing production incentive program lacks transparency so it's difficult to know for certain where each utility is in relation to its cap. Some small public utilities have already reached theirs. Some of these have closed their incentive programs to new applicants.
The primary cause of this situation is the rapid deployment of solar throughout Washington. Additionally, homeowners are installing larger solar systems and using Made-in-Washington equipment, with a higher incentive rate. Finally, a sunnier and milder winter and spring than forecast resulted in more solar production and less revenue for utilities.
WHAT IS BEING DONE
SIW is actively working on a solution. We are engaging with leaders in the state Legislature and with utility representatives to pass a new solar incentive bill. The 2016 legislative session begins in January. It is critical to the future of state solar incentives that we pass a bill this session, both for current and future solar customers.
A bill to raise the overall cap was introduced during the 2015 legislative session but did not pass. We need your help now.
WHAT YOU CAN DO
Lawmakers need to hear from customers who may be impacted by the rate reduction:
1) MOST EFFECTIVE: Call or email your local officials with a personalized plea for their support. You can find their contact information at http://app.leg.wa.gov/districtfinder/.
2) VERY EFFECTIVE: Fill out this Letter Campaign to automatically send a message to your local officials based on your address.
3) STILL EFFECTIVE: Contact your utility and let them know you want to see the solar incentive program extended. Please ask them to support solar legislation in 2016.
4) STILL EFFECTIVE: Fill out this Petition to the Committee Chairs who will eventually oversee the bill.
Speaking directly with your local representatives is most effective, but this certainly helps.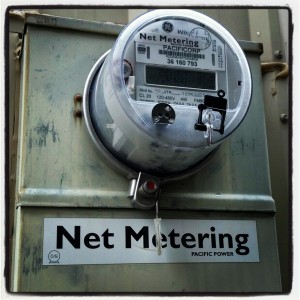 Labeling, or not labeling, is second only to grounding when it comes to solar confusion. Confusion for the installer, confusion for the electrical inspector and confusion for the utility. At Hire Electric we've evolved into a system over the past 12 years that works pretty well for all parties involved. Now the NEC is changing things up a bit by coming in line more with warning and safety labeling standards from the American National Standard Institute (ANSI) Z535.4 – 2011 per Article 110.21(B).
Yellow and red and orange…oh, my. Different fonts and different colors, sizes and shapes. A whole new world to learn and comply with.
I found this article from Solar Industry Magazine that sums up the issues pretty well: "New Labels Bring Clarity to PV Infrastructure"
One thing to keep in mind for Net Metered systems is that NEC compliance does not necessarily mean utility compliance. Often times power companies have another set of standards or rules or arbitrary wishes that they want you to comply with. At Hire we deal with 16 different utilities throughout Washington and Oregon. Each one is slightly different.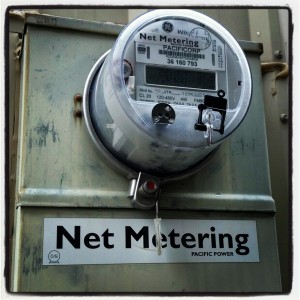 Gorge Owned sponsored GO! Talks this fall in Hood River and Hire's Jonathan Lewis gave an historical energy tour around the gorge with a pitch for a new Rural RE Electrification Act: