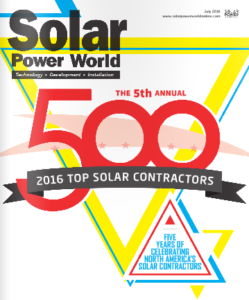 The 2016 Solar Power World 2016 Top Solar Contractor List  is out!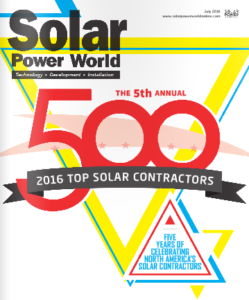 The ranking is based on how many watts each company around the US installed in 2015. Hire ranked #358 out of 500 selected. Not bad for a small town, eastern Oregon electrical company. We're very proud of our accomplishments in solar thus far and of our far reaching roots into the dry side of both Oregon and Washington. Roots going back to 1935. We are the 7th oldest company to make the list. We've been here to support your electrical needs for 81 years and we'll be here to support your electrical future. Thanks to our amazing crew and loyal customers for making Hire #358 in the nation. Here's to solar and here's to another 81 years!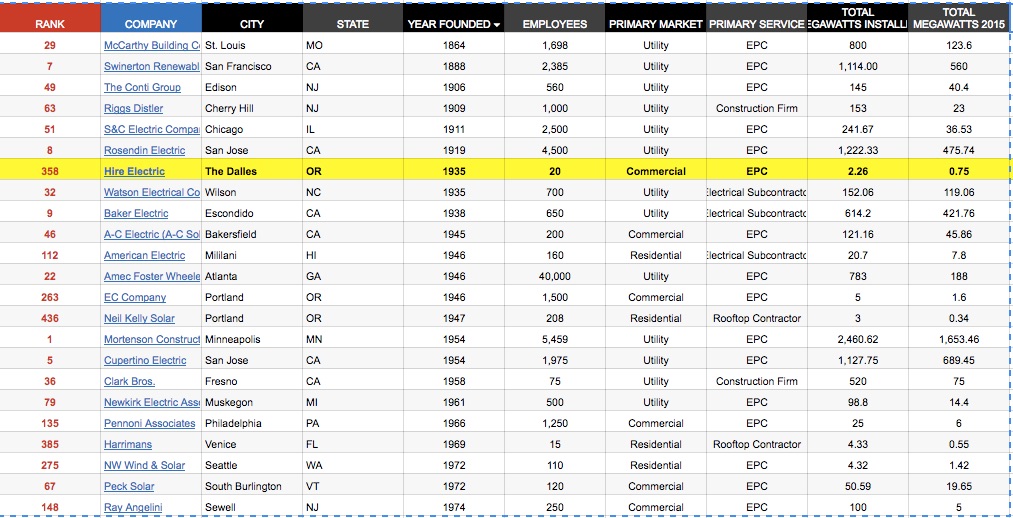 June 28, 2016 BONUS Sustainable Living Center Workshop! Solar PV with Hire Electric
If you have been curious about photo-voltaic solar systems, have wondered how much one would cost, or have heard about state and federal incentives, be sure to take advantage of this opportunity to get information and have any of your questions answered from Hire Electric's Jonathan Lewis! Hire Electric is based in The Dalles, OR but is no stranger to the Walla Walla Valley. Hire Electric has been providing education here for years and have many residential and commercial PV installations to their credit in the valley. Sharpen your pencils and get ready to take some notes!
This workshop will be held at:
WWCC Water & Environmental Center Rooms 2023/2024
640 Water Center Drive, Walla Walla 99362
June 28, 2016 6:30P to 8:00P
Come tour the WWCC solar arrays with us:
2015 was our busiest year so far with 760kW worth of installations. Here's a slide show highlighting some of that work (and some old jobs thrown in just for fun).

Our major accomplishments of 2015 were the community college projects with Schneider Electric: a 175kW tracker, flat roof mount and carport at Walla Walla Community College and a 100kW roof mount at Columbia Basin College in Pasco, WA. We also started the 123kW solar carports at Tamastslikt in Pendleton and did MANY Washington Made itek residential system. In Oregon and utilities in Washington that have tapped out their incentive allocation we installed many SolarWorld systems.
2016 is starting off with a bang with a 100kW chicken coop in Milton-Freewater, OR and a 25kW hardware store in Arlington, OR; and promises to be equally rewarding for Hire and the whole solar industry in the Northwest. Things are up in the air with the Washington legislature and Washington's solar incentive program but hopefully that will be decided in short order during the special session.