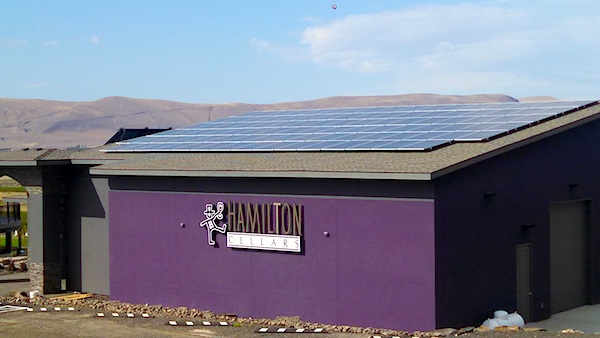 Russ and Stacie Hamilton of Hamilton Cellars are building a beautiful new winery and tasting room out on Red Mountain with the goal of being the 1st net zero winery in Washington State. www.hamiltoncellars.com
To that end Hire Electric's Solar Division just installed a 33kW solar array on the east facing barrel room roof that will generate approximately 44MWh per year – enough to fully power about four northwest homes. We used 121 – SolarWorld 275 watt solar panels and Enphase Micro Inverters for module level monitoring. The winery features extensive efficiency measures, an electric vehicle charging station, innovative cooling systems and solar thermal water and space heating.
Ribbon cutting and open house will be at 1pm on Tuesday, September 22, 2015.
Solar Monitoring Kiosk: Enphase & Building/Solar Dashboard: eGauge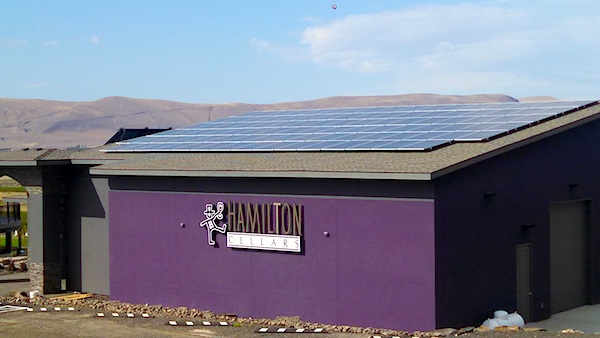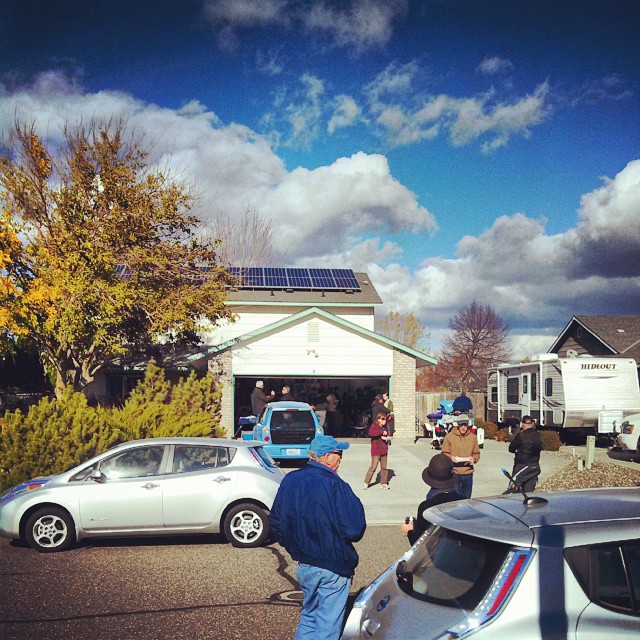 Thanks to Everyone for making our 1st SolarBlockParty a huge success – especially:
the 2 gracious homeowner/host families
all our old customers and Solarize customers who showed up and gave such great encouragement
Phil Lynch – the Solarize President and his wife
ALL the Mid Columbia EV Association members who came out with their electric cars. We had 8 Leafs, a Think, a Volt, an Insight and an electric bike show up!
Dan & Mindy for all the awesome grilling
NWPR & KNDU for showing up to cover the event
North Coast Electric for helping as promotional sponsor
iTek for providing literature
The overall response was "when's the next one!" Answer: As soon as we have 2 or 3 neighbors go solar together we'll fire up the grill and celebrate.
Join us on Nov 3rd – Solar Block Party in West Richland, WA. Two neighbors went solar as part of this summer's Solarize Mid Columbia Campaign and we're going to celebrate with a Solar Block Party. You'll be able to talk to the Solarize board and other Solar customers. There's a park across the street so bring the family. Let us know your favorite sun themed song so DJ SunRay can mix it up. Drinks and hamburgers will be first-come-first-served. Several electric cars will be visiting – bring one if you've got one and show it off. The Solar Powered Seahawks will be playing in the garage so you won't miss a thing. Get off the couch and join the party! 12pm to 3pm. Download and share the flier/map.
Please RSVP so we know how many burgers to grill up: